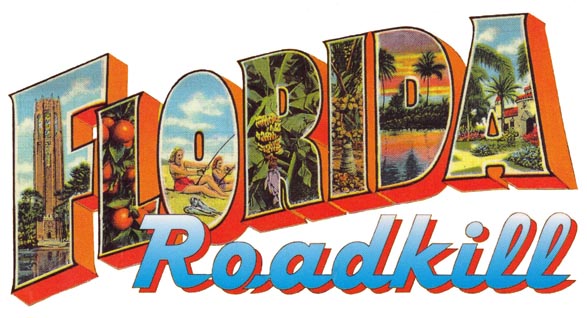 What the reviews are saying ...
"Vulgar, violent and gaudier than sunsets on the Keys, Dorsey's roadshow is some fun."
- New York Times, Sept. 5, 1999
"Some of the most wacky villains and situations since Hiaasen stuck a plastic alligator
down a stranger's throat and called it Tourist Season."
- Chicago Tribune
"This is a wonderful, rollicking read that propels Dorsey into the same league
as fellow Florida writers Hiaasen and Elmore Leonard."
- Fort Pierce Tribune, August 10, 1999
"Impossible as it sounds, Dorsey has muscled in on the big guns' territory and ripped the place upside down."
- Miami Herald, August 8, 1999
"Dorsey has put his own spin on what cried out for resuscitation, the Florida crime novel. ...
[He] delivers the good exponentially."
- Sarasota Herald-Tribune, August 17, 1999
"The [novel] is fiecely energetic, outrageously funny ... Imagine Hunter S. Thompson
sharing a byline with Groucho Marx."
- The Tampa Tribune, August 1, 1999
"I haven't laughed as much in a long time. ... Once Dorsey gets his story in gear, there's no holding back."
- Vero Beach Press-Journal, August 8, 1999
"If Florida Roadkill were a dance, it would be the jitterbug - fast and acrobatic with no time to stop."
- Fort Lauderdale Sun-Sentinel, August 8, 1999
"Want to end your summer beach reading with a wild-and-crazy tale of gonzo criminals making mayhem all over the state? Then Tim Dorsey's Florida Roadkill is the book for you."
- Daytona Beach News-Journal, August 1, 1999
"This rollicking, over-the-top novel is a blast."
- Publishers Weekly, July 5, 1999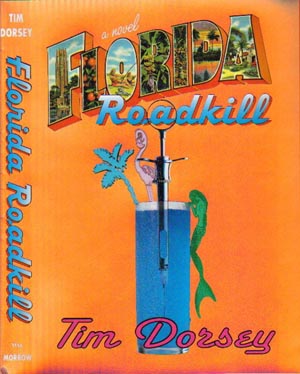 U.S. cover
"Imagine the violence of Edna Buchanan married to the skewed worldview of Dave Barry; now you're ready to meet Tim Dorsey, whose dark yet wildly funny first novel recounts several months in the lives of about 15 losers who are lower on the criminal food chain than even an Elmore Leonard character. Take the insurance executive who has turned to money laundering to save his failing business after Hurricane Andrew; or the three thug wanna-bes who end up as vigilantes defending a community of senior citizens against their rapacious landlord; or take Serge and Coleman, who can only be described as Cheech and Chong with guns. What ties these characters together is the seventh game of the 1997 World Series in which the Florida Marlins defeated the Cleveland Indians in extra innings. Dorsey's delightful novel belongs in the hands of anyone who likes the mix of Florida setting and black humor in the work of Leonard, Carl Hiaasen, and Laurence Shames."
- Booklist, April 15, 1999
"Dorsey demonstrates a deep knowledge of Florida history, past and present, and possesses the sideways point of view required for survival south of Ocala. Florida Roadkill will earn the author comparisons to established area novelists; it guarantees fall-to-the-floor laughter, and a climactic melee worthy of its title.
- Tom Corcoran, BookPage, August 1999
"Dorsey's book leaves a reader with Hiaasen deja vu. The plot revolves around millions in tainted money, deadly babes, cocaine, lots of chases and (in a twist that would please Hiaasen) all of the characters end up at the World Series in Miami. But Dorsey, an editor at The Tampa Tribune, ... doesn't imitate Hiaasen and others in the genre. Rather, he absorbs their style and tells a crisp tale that is original, entertaining, often exciting and occasionally hilarious. His subtle social commentary is also reminiscent of the older Florida novelists -- ever since MacDonald, one of the best ways to vent about the corruption of paradise has been vicariously, through novels."
- Weekly Planet, June 10-16, 1999
"Dorsey's wicked sense of humor and astounding knowledge of Florida's history and legends add levity and local color to this dark tale of homicide and mayhem, which won't win many friends at the Florida Tourist Bureau."
- Library Journal, June 15, 1999
What other authors are saying ...
"F lorida Roadkill is a redline, juking, jiving, manic, tequila-laced triple espresso ride from north to south through the flipped out, ultra-scuzzy, bullet-between-the-eyes state of Florida. And what a tour guide Tim Dorsey is. This guy is an insane comic angel with uranium for brains and fifty heartbeats a second. So strap yourself in tight, double-check the airbag, say your best prayer, sit back and let this baby rocket you from zero to past the sound barrier in minus three seconds. Wow, what a ride."
- James Hall, author of Body Language and Bones of Coral
"F lorida Roadkill out-Hiaasens Hiaasen. It is deranged, depraved, and dead-on in its look at nefarious doings in the Sunshine State; clearly Tim Dorsey deserves to be our next President, or at least, Florida's official greeter."
- Les Standiford, author of Presidential Deal



British cover

"I loved this. Thomas Pynchon hacks it out with Hunter S. Thompson: referee, Elmore Leonard. But much more, too. I was close to being sick with laughter at times, other times just close to being sick. Great fun, so jittery and underwritten. More books about Serge, please. For my money he can just go up and down the peninsula stealing really good cars and killing people (after first lecturing them on local history) forever."

- M. John Harrison, author of Signs of Life and The Course of the Heart
What the publisher is saying ...
"J ust when you thought the south Florida crime novel was played out and gasping for fresh air, along comes Tim Dorsey to give it a hot spike of pure adrenaline called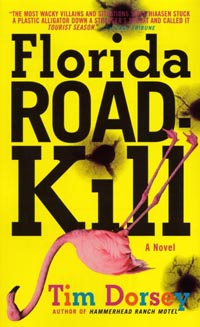 paperback

Florida Roadkill. Think Hunter Thompson leaving Las Vegas and taking Fear and Loathing through the Everglades on the Tamiami Trail. Think Thomas Pynchon on a psychotic break. Think Elmore Leonard mainlining speedballs, or James W. Hall tripping on Ecstasy. Think Quentin Tarantino whispering in Carl Hiaasen's ear, "You don't go far enough -- out!" This is a wild-at-heart, pinball-machine of a novel, teeming with oddball kooks. crazies and maniacs as they careen through Florida on a kaleidoscopic crime-and-violent-mayhem spree, with stops in Tampa, Palm Beach, Cocoa Beach, Miami Beach, Key West and the Dry Tortugas. Ultra-sex, mondo-drugs, Satanic rock 'n' roll. Lap-dancing coke whores, money-laundering life insurers, ruthless retirement-village scammers. Five million bucks in a suitcase dropped in the trunk of the wrong car, with a whole convoy of homicidal wackos in pursuit – and every damn one of them stops in Miami to take in the last game of the World Series. The dumb bad guy is hooked on cocaine and cartoons; the smart one is obsessed with Sunshine State lore; the babe is a walking wet dream who's twice as deadly as the men. And get this: There are two good guys, and one of them is a lawyer. This is Florida in all its decadence, corruption, dysfunction, cupidity, stupidity and bizarro violence. But native Floridian Tim Dorsey still loves his home state – the pure Florida that hasn't been completely paved over – and he eloquently communicates his abiding passion for its beauty and history. But mainly, Florida Roadkill is a hyperkinetic, ultraviolent, crazily lyrical and hysterically funny crime fiction with a post-modern spin. From murder by Levis 501s to the Running of the Hemingways in Key West, this novel is overdosed, overdriven and over-over-the-top."
HOME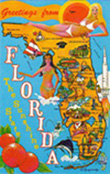 e-mail